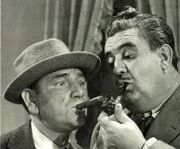 3 of a Kind (retitled on VHS as Cookin' Up Trouble) is an American comedy film released in 1944 by Monogram Studios.
The film stars acrobat Paul Collins, he has 2 stooges in his act which are Billy Gilbert and Shemp Howard . Paul accidentally falls to his death during a trapeze act. It is up to Billy and Shemp as uncles to guard Jimmy. They later cook for Maxie Rosenblum and are later felt unfit to be guardians to Jimmy, They decide that his step-mother is better off caring for him.
Stooge Appearances
Edit
Shemp Howard co-stars with Billy Gilbert as guardians of Jimmy, a boy who lost his father who had an accident during a circus trapeze act.
Ad blocker interference detected!
Wikia is a free-to-use site that makes money from advertising. We have a modified experience for viewers using ad blockers

Wikia is not accessible if you've made further modifications. Remove the custom ad blocker rule(s) and the page will load as expected.