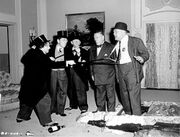 A Missed Fortune is the one-hundred-thirty-seventh Columbia Pictures short subject starring the Three Stooges.
Shemp wins $50,000 for accidentally guessing the correct make of a car for a radio contest. The boys check in at the Hotel Costa Plente, and quickly spend their winnings. Their suite is furnished with many expensive items, which they systematically destroy. The hotel manager (Vernon Dent) then delivers a telegram to the stooge's suite, and discovers the destruction. The telegram reveals that taxes withheld from Shemp's winnings reduce the $50,000 windfall to a minuscule $4.85.
Just then, three attractive gold diggers (Nanette Bordeaux, Vivian Mason, Suzanne Ridgeway), who are also guests at the hotel, connive their way into the boys' room. After twice drenching the girls with ice water from champagne buckets, the girls hit the stooges over the head with champagne bottles, knocking them unconscious.
A Missed Fortune is a reworking of Healthy, Wealthy and Dumb. When Shemp falls on the bed, it is actually footage of Curly.
A Missed Fortune is the last Stooge film to be released during Curly's lifetime, as he died on January 18, 1952.
 

Columbia Pictures short subjects
Curly, Larry, Moe
Shemp, Larry, Moe
Joe, Larry Moe
Ad blocker interference detected!
Wikia is a free-to-use site that makes money from advertising. We have a modified experience for viewers using ad blockers

Wikia is not accessible if you've made further modifications. Remove the custom ad blocker rule(s) and the page will load as expected.