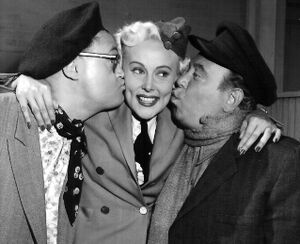 Aim, Fire, Shoot is a 1952 film featuring Joe Besser.
Visiting Starvania's army camps to find his fiance Olga. Joe and his friend Hath find themselves near the gate of gate victory when war breaks out with Thirstgaria. The draft has a new meaning after a wind blows the boys next to the victory induction center. They are bumbling during drill and artillery training, with help from an errant skunk, constant aggravation to Sgt. Bonebreaker. Complicated maters are Sarge's jealousy over WAC Cpl. Olga.
Ad blocker interference detected!
Wikia is a free-to-use site that makes money from advertising. We have a modified experience for viewers using ad blockers

Wikia is not accessible if you've made further modifications. Remove the custom ad blocker rule(s) and the page will load as expected.