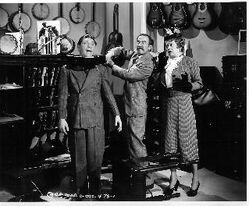 Boobs in the Woods
was an American comedy short released by
Columbia Pictures
on May 31, 1940. The short was directed by
Del Lord
and starred Andy Clyde,
Shemp Howard
, Esther Howard and
Bud Jamison
. This was 35th of seventy-nine short subjects in Andy Clyde's Columbia short series which lasted from 1934 to 1956, second only to Three Stooges'
series
.
Shemp appeared in 4 shorts on that series :
Not Guilty Enough
,
Home on the Rage
,
Money Squawks
, and
Boobs in the Woods
.
The bane of Andy's existence is his freeloading brother-in-law Gus (Shemp Howard). After Gus crashes Andy's car into a police car, and instigates Mr. Livingstone (Bud Jamison) to fire Andy from his job at the music store, there is only one thing for Mr. Clyde to do... allow his wife to talk him into taking Gus with them on a camping trip. Gus' loud mouth antagonizes a policeman and a park ranger, and his antics with an axe, a loaded gun, and a noosed rope leave Andy on the receiving end of one disaster after another.
Del Lord's direction throws sight gags one after another, in quick fashion. The comedy may not be original, but the laughs are consistently generated. As non-Three Stooges Columbia short subjects go... this is one of the best.
This short was a partial rework of Rocsoe Ates' 1934 Vitaphone short, So You Won't T-t-t Talk which also featured Shemp Howard in co-star role
Ad blocker interference detected!
Wikia is a free-to-use site that makes money from advertising. We have a modified experience for viewers using ad blockers

Wikia is not accessible if you've made further modifications. Remove the custom ad blocker rule(s) and the page will load as expected.