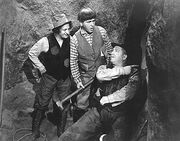 Cast and Carry is the twenty-fifth Columbia Pictures short subject starring the Three Stooges.
The stooges come home after months of unsuccessful prospecting only to find that a young, crippled boy and his much older sister have moved into their city dump shack. The stooges attempt to invest the boy's operation money by buying a house that is supposed to have Captain Kidd's treasure, but when they attempt to dig it up they accidently break into the US treasury instead.
 

Columbia Pictures short subjects
Curly, Larry, Moe
Shemp, Larry, Moe
Joe, Larry Moe
Ad blocker interference detected!
Wikia is a free-to-use site that makes money from advertising. We have a modified experience for viewers using ad blockers

Wikia is not accessible if you've made further modifications. Remove the custom ad blocker rule(s) and the page will load as expected.