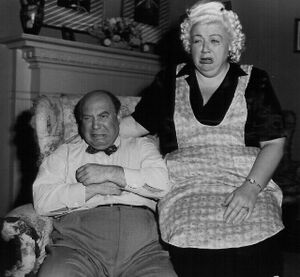 Caught on the Bounce is 1952 film featuring Joe Besser.
Joe is a desperate homeowner attempting to get $2500 to stop the foreclosure of his mortgage. His wife's aunt is wealthy, so the family goes on a train in an attempt to borrow money from her. Daddy, Junior and the porter attempt to boost mother into the upper berth. The next day, they learn that their bank was recently robbed, and there is a $5000 reward if anyone's able to capture him. The family meets Aunt Tildy on the train, and discover that bad investments have left her broke. Fortunately, the robber appears on the train and Daddy catches him.
Ad blocker interference detected!
Wikia is a free-to-use site that makes money from advertising. We have a modified experience for viewers using ad blockers

Wikia is not accessible if you've made further modifications. Remove the custom ad blocker rule(s) and the page will load as expected.