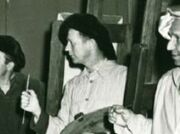 Charlie Cross
was a stunt double.
Biography
Edit
Charlie Cross was born on September 9, 1893 in Newmark, New Jersey. In his youth he lived an Philadelphia and became friends with Larry Fine. His primary role at Columbia was Larry Fine's stunt double. He died on June 23, 1972. He first appeared in Uncivil Warriors and last appeared in Snow White and the Three Stooges. In Studio Stoops he doubled for Shemp Howard and Larry was instead doubled by Harold Breen.
Ad blocker interference detected!
Wikia is a free-to-use site that makes money from advertising. We have a modified experience for viewers using ad blockers

Wikia is not accessible if you've made further modifications. Remove the custom ad blocker rule(s) and the page will load as expected.