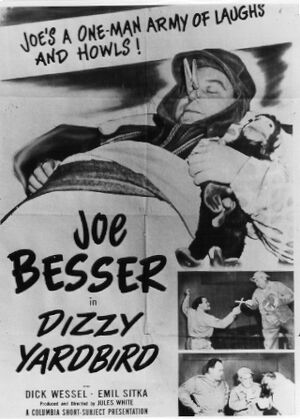 Dizzy Yardbird is a 1950 film featuring Joe Besser.
Rodney Marblehead (Joe Besser) gets a notice, placing him Sgt. Flin's platoon. Flint keeps up with Rodney's bumbling leading to a bet with Master Sgt. good, who says that Marblehead is coddled, he will wind up on the promotional list in a month. Flint tries to stop his temper, but Rodney still manages to appear on the kp, where he suddenly dumps glue into the mess hall's soup. Adding to Flint's woes are Rodney's great dane Homer, who misses his master and tracks him down in military camp. Disturbing the training.
Ad blocker interference detected!
Wikia is a free-to-use site that makes money from advertising. We have a modified experience for viewers using ad blockers

Wikia is not accessible if you've made further modifications. Remove the custom ad blocker rule(s) and the page will load as expected.