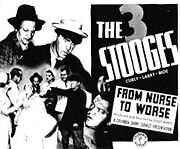 From Nurse to Worse is the forty-ninth short subject from Columbia Pictures starring the Three Stooges.
The boys are painters who run into their old friend Jerry, an insurance salesman (Lynton Brent). He promises them that if they take out a policy on Curly proving that he has gone insane, they can collect $500 a month. Moe and Larry bring Curly on a leash to the office of Dr. D. Lerious (Vernon Dent). Curly's pretending to be a hound is so over the top that the doctor declares he must operate. The Stooges flee, and hide out in the back of a dog catcher's truck and are soon infested with fleas. Dr. Lerious eventually catches up with the Stooges, and Curly is sent straight for the operating room. Eventually, the trio get away on a gurney, bump into their pal Jerry, and give him the works.
When Moe, Larry and Curly are riding at the end Curly's woob woob audio is dubbed from Horses Collars.
 

Columbia Pictures short subjects
Curly, Larry, Moe
Shemp, Larry, Moe
Joe, Larry Moe
Ad blocker interference detected!
Wikia is a free-to-use site that makes money from advertising. We have a modified experience for viewers using ad blockers

Wikia is not accessible if you've made further modifications. Remove the custom ad blocker rule(s) and the page will load as expected.