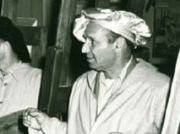 Harold Breen was a stunt double who doubled for Shemp Howard. He appeared in twenty Three Stooges shorts.
Biography
Edit
Harold Breen was born on January 12, 1909. He first doubled for Shemp in the 1947 short Brideless Groom and appeared in 20 short subjects from 1947 to 1956. He also stood in for Joe DeRita in Snow White and the Three Stooges. He died on September 8, 1963. He was 54 years old. He was also known as either Hurley Breen or "Red" Breen
In some shorts, Breen can be seen doubling for Shemp.
Ad blocker interference detected!
Wikia is a free-to-use site that makes money from advertising. We have a modified experience for viewers using ad blockers

Wikia is not accessible if you've made further modifications. Remove the custom ad blocker rule(s) and the page will load as expected.