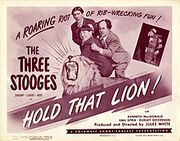 Hold That Lion! is the one-hundredth Columbia Pictures short subject starring the Three Stooges. Former Stooge Curly Howard made a cameo appearance in this film.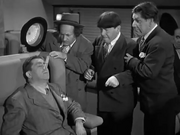 The Stooges' inheritance from their late Uncle Ambrose has been stolen by crooked investment broker Icabod Slipp (Kenneth MacDonald). The boys go over to Slipp's office to subpoena him, but he beats each of them up, rips up their subpoenas and then takes off on a train with the boys' inheritance. The Stooges then trail him to the train, and accidentally free a lion from the baggage car. Eventually, the boys capture Slipp and retrieve their inheritance money from him.
Curly Howard Returns
Edit
Hold That Lion! is notable for a cameo appearance by former Stooge Curly Howard, younger brother of Shemp and Moe. He appears as a snoring passenger who the Stooges think is Ichabod Slipp, the man they are looking for. This was the only film that featured all three Howard brothers — Moe, Curly, and Shemp — in the same film. This also marks the first time Curly is shown on camera with a full head of hair, and his only film appearance following the stroke that ended his career as a full-time Stooge.
Curly Howard returns to the act, albeit briefly, in Hold That Lion! This marked the only instance in which brothers Curly, Moe and Shemp appeared together on screen.
Tanner the Lion could only be filmed with the Stooges for tame shots. For shots requiring him to growl or act angry, he was filmed by himself.
Hold that Lion! was also recycled by films post-1953:
 

Columbia Pictures short subjects
Curly, Larry, Moe
Shemp, Larry, Moe
Joe, Larry Moe
Ad blocker interference detected!
Wikia is a free-to-use site that makes money from advertising. We have a modified experience for viewers using ad blockers

Wikia is not accessible if you've made further modifications. Remove the custom ad blocker rule(s) and the page will load as expected.