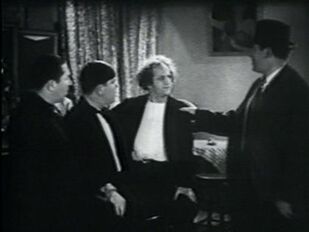 Hollywood on Parade B-9 was an 8-minute one-reeler short from 1934. The short itself is all over the place. Jimmy Durante interrupts Mack Gordon and Harry Revel in the beginning scene. Gordon later performs "Did You Ever See A Dream Walking?". Ben Turpin plays a goofy bartender and at the end of the short tries to do a backflip. Rudy Vallee also shows up at some point. The stooges have a small part where Ted Healy tries to show Bonnie Bonnell how he makes people laughs and uses the stooges as his examples. This results in them all ending up in a slap war.
This is thought to be Curly's first on-screen performance, but it is not. Curly's actual screen debut was in a "Screen Snapshots" one-reeler where Healy and the boys clown around in a nightclub.
Ad blocker interference detected!
Wikia is a free-to-use site that makes money from advertising. We have a modified experience for viewers using ad blockers

Wikia is not accessible if you've made further modifications. Remove the custom ad blocker rule(s) and the page will load as expected.