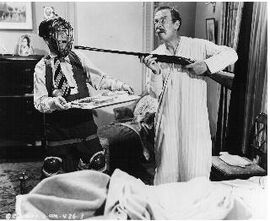 Home on the Rage was an American comedy short released by Columbia Pictures on December 9, 1938. The short was directed by Del Lord and starred Andy Clyde, Shemp Howard, and Vernon Dent. This was 25th of seventy-nine short subjects in Andy Clyde's Columbia short series which lasted from 1934 to 1956, second only to Three Stooges' series. Shemp appeared in 4 shorts on that series : Not Guilty Enough, Home on the Rage, Money Squawks, and Boobs in the Woods.
Andy mistakenly believes his wife and brother-in-law are conspiring to murder him for insurance.
Ad blocker interference detected!
Wikia is a free-to-use site that makes money from advertising. We have a modified experience for viewers using ad blockers

Wikia is not accessible if you've made further modifications. Remove the custom ad blocker rule(s) and the page will load as expected.