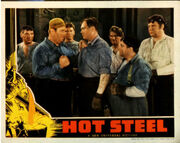 Hot Steel was a feature film produced by Universal Studios and released on May 24,1940.
Frank Stewart while at the steel town of Arlington meets his old friend Matt Morrison who gives him a job at Farley Steelyards. Rita Martin, wife of Dave Martin, is having an affair with the company's manager George Barnes. Mrs Carlton and Rita murder Dave by accident and steal a sample of alloy so they can meet their goal of framing Frank for the murder of Dave.
Richard Arlen as Frank Stewart
Andy Devine as Matt Morrison
Peggy Moran as Babe Morrison
Anne Nagel as Rita Martin
Donald Briggs as George Barnes
Joe Besser as Siggie Landers
Robert Emmett O'Connor as Police Inspector
Wade Boteler as Joe Farley
James Flavin as Storm Swenson
Edward McWade as Carlton
Billy Wayne as Dave Martin
Myra McKinney as Elvira Appleby
Dorothy Vaughan as Mrs. Morrison
Thomas E. Jackson as Detective
Emmett Vogan as Jacobs
Stooge Appearance
Edit
This is a Joe Besser solo feature film, he appears as Siggie Landers an employee of the steelyard company..
Ad blocker interference detected!
Wikia is a free-to-use site that makes money from advertising. We have a modified experience for viewers using ad blockers

Wikia is not accessible if you've made further modifications. Remove the custom ad blocker rule(s) and the page will load as expected.