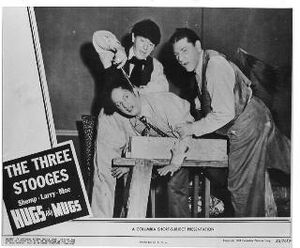 Hugs and Mugs is the one-hundred-twenty-first Columbia Pictures short starring the Three Stooges.
After a prison stretch for jewel robbery, three beautiful women search for a pearl necklace the police never found. Unfortunately for them, the warehouse where they hid it sold the pearls for back storage fees to three furniture repairmen, Moe, Larry and Shemp. The girls follow the Stooges to their shop, and pretend to flirt with them as a distraction, so they can search the shop for the necklace. But the molls' gangster ex-boyfriends are hot on their trail, and slapstick mayhem ensues when the Stooges come to the girls' defense.
 

Columbia Pictures short subjects
Curly, Larry, Moe
Shemp, Larry, Moe
Joe, Larry Moe
Ad blocker interference detected!
Wikia is a free-to-use site that makes money from advertising. We have a modified experience for viewers using ad blockers

Wikia is not accessible if you've made further modifications. Remove the custom ad blocker rule(s) and the page will load as expected.