Jitter Bughouse is a Columbia short subject featuring Joe DeRita, This was his first short with Columbia and was originally released on March 20, 1947.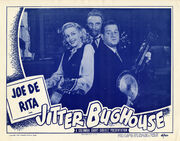 Joe is the leader of the Nov-Elites and are rehearsing in case they get a job. Joe thinks that his music can cure the mentally imbalanced. This comes in handy when his girlfriend Myrtie (Christine McIntyre) is a nurse to Mr.Lark (Emil Sitka). The group heads to the Lark Mansion to play music for Mr.Lark. In the end it works out and Myrtie and Joe can get married after all.
This was filmed 2 months before Curly Howard of The Three Stooges sufferred a stroke.
Some sources mistake this to be released in 1948.
It was released a decade before Joe DeRita became Curly Joe in The Three Stooges
Ad blocker interference detected!
Wikia is a free-to-use site that makes money from advertising. We have a modified experience for viewers using ad blockers

Wikia is not accessible if you've made further modifications. Remove the custom ad blocker rule(s) and the page will load as expected.