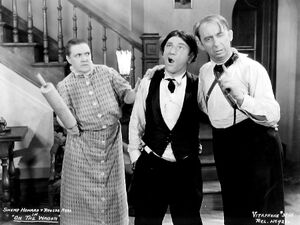 On the Wagon is a 1935 film featuring Shemp Howard
Hitching a ride on a street cleaner wagon, Henry (Shemp) and Elmer return home after the latest late night drinking binge. At home waiting for them are their wives, and wielding Axe mother in law wearing a rolling pin. Hoping to get into the house without being noticed, the boys by mistake break into the door of their neighbors, a professional wrestler and his wife. Realizing where are they, and hoping to save their bones, Elmer and Henry escape onto a 17th story ledge in their drunken stupor, and attempt to get their homes through the windows.
Ad blocker interference detected!
Wikia is a free-to-use site that makes money from advertising. We have a modified experience for viewers using ad blockers

Wikia is not accessible if you've made further modifications. Remove the custom ad blocker rule(s) and the page will load as expected.