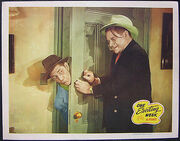 One Exciting Week is a full-length feature film produced by Republic Studios and released in 1946. It stars Al Pearce, Shemp Howard, Mary Treen and Pinky Lee.
Dan Flannery hears of a $ 10,000 reward and thinks if he wins he can marry his girlfriend Mabel. But he runs into three con artists who set up a scheme to take the $ 10,000 reward and trick dan into believing that he is their gang leader.
Stooge Appearances
Edit
Shemp Howard stars as Marvin Lewis one of the con-artists.
Ad blocker interference detected!
Wikia is a free-to-use site that makes money from advertising. We have a modified experience for viewers using ad blockers

Wikia is not accessible if you've made further modifications. Remove the custom ad blocker rule(s) and the page will load as expected.