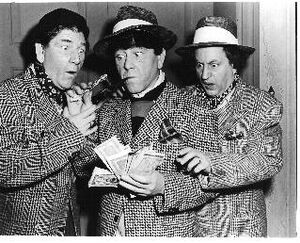 Studio Stoops is the one-hundred-twenty-sixth Columbia Pictures short subject starring the Three Stooges.
The Stooges are hired to drum up publicity for Dolly Devore (Christine McIntyre), and arrange a fake kidnapping. When the police arrive, they do not believe the kidnapping story. However, Dolly is actually kidnapped a short time later. At the end, Shemp is hanging from a tenth-floor window on an extending telephone.
 

Columbia Pictures short subjects
Curly, Larry, Moe
Shemp, Larry, Moe
Joe, Larry Moe
Ad blocker interference detected!
Wikia is a free-to-use site that makes money from advertising. We have a modified experience for viewers using ad blockers

Wikia is not accessible if you've made further modifications. Remove the custom ad blocker rule(s) and the page will load as expected.