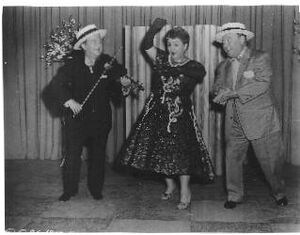 Sweet and Hot is the one-hundred-eighty-sixth Columbia Pictures short subject starring the Three Stooges.
Small town boy made good, producer Larry returns to his home farm town and asks his friends, Joe and sister Tiny (Muriel Landers), to join his New York nightclub act. But Tiny has a fear of performing in front of a live audience, so Larry and Joe take Tiny to a German psychiatrist (Moe), who uses hypnosis to take Tiny back to the childhood origin of her problem.
 

Columbia Pictures short subjects
Curly, Larry, Moe
Shemp, Larry, Moe
Joe, Larry Moe
Ad blocker interference detected!
Wikia is a free-to-use site that makes money from advertising. We have a modified experience for viewers using ad blockers

Wikia is not accessible if you've made further modifications. Remove the custom ad blocker rule(s) and the page will load as expected.