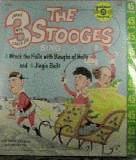 The 3 Stooges is a 1959 Christmas album. It is one of the most sought out Three Stooges records. It features holiday songs sung by the Three Stooges. It is composed of two records. These two records feature such yuletide favorites as "Wreck the Halls with Boughs of Holly", and "I Want a Hippopotamus for Christmas".
Ad blocker interference detected!
Wikia is a free-to-use site that makes money from advertising. We have a modified experience for viewers using ad blockers

Wikia is not accessible if you've made further modifications. Remove the custom ad blocker rule(s) and the page will load as expected.