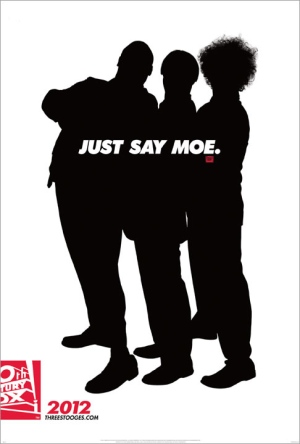 The Three Stooges is an  slapstick comedy film based on the early to mid-20th century comedy shorts of the same name. It was produced, written and directed by the Farrelly brothers and co-written by Mike Cerrone. It stars Chris Diamantopoulos, Sean Hayes, and Will Sasso.
After over a decade and casting problems, principal photography took place from May to July 2011. The film is scheduled to be released on April 13, 2012. The film is rated PG for slapstick action violence, some rude and suggestive humor including language by the MPAA rating system.
Jane Lynch as Mother Superior, a nun who runs the orphanage the trio grew up in[1]
Larry David as Sister Mary-Mengele, a nun who runs the orphanage and is very strict at enforcing rules. She has a personal hatred for the Stooges for the damages they done to both the orphanage and to herself over the years. [2]
Brian Doyle-Murray as Monsignor Ratliffe, a head catholic priest who authorizes the orphanage's shutdown
Sofía Vergara as Lydia, Teddy's wife who wants to exploit the Stooges. She is the secondary antagonist in the movie and wants to murder him in order to gain his inheritence. Lydia hates the trio for thwarting her plans to murder Teddy. At the end of the move, she, Mr. Harter and Mac are all arrested
Jennifer Hudson as Sister Rosemary[3]
Lin Shaye as Nursery Nurse
Stephen Collins as Mr. Harter, Teddy's adopted father, who is a lawyer that married into money, rather than love. He's the main antagonist who wants to murder his adopted son out of spite because his late wife and Teddy's deceased mother both left their inheritance to him, rather than Harter. He had originally wanted to adopt Moe, but when he insisted that he returns and adopts Larry and Curly, he returned him to the orphanage and took Teddy in his place.[4]
Carly Craig as Mrs. Harter, Teddy's adopted mother. Like her husband, she wanted to adopt Moe, but returned him when he insisted that they go back for Larry and Curly. Unlike her husband, she found the boys as no trouble and rather funny. When Mrs. Harter died, she left the inheritance to Teddy rather than Mr. Harter, which explains his bitterness and her mistrust to him.[5]
Craig Bierko as Mac, Lydia's lover and "one of the heavies trying to exploit the Stooges". He soon finds himself duped when he learns about Mr. Harter and Lydia's plans to kill not only Teddy, but the boys and himself. In the end despite being arrested, Mac is spared in exchange for testifying against both Mr. Harter and Lydia. He is the tertiary antagonist of the film.[6]
Kirby Heyborne as Teddy, Mr. Harter's adopted son whom his adopted mother left the inheritence in his name. A friend of the Stooges, he's grateful for them in saving his life, but doesnt want to help them save the orphanage who gave him away to a spiteful father who tried to murder him, among all the trouble it caused him. Teddy later marries Ling and adopts Murph and her brothers.[7]
Isaiah Mustafa as Moe's Hip Executive. He casts Moe in as the newest member of Jersey Shore. However when the cast demands that he removes Moe right away because they're fed up with the abuse they took from him, he refuses stating that they need Moe to spice up the show because ratings for the show without him were low. He would later create a spin off series for the trio to star in called Nuns vs Nitwits.
Dwight Howard as Himself
Nicole "Snooki" Polizzi as Herself
Mike "The Situation" Sorrentino as Himself
Jennifer "JWoww" Farley as Herself
Ronnie Ortiz-Magro as Himself
Paul "Pauly D" DelVecchio as Himself
Samantha Giancola as Herself
Emy Coligado as Ling, Mr. Harter's assistant. She becomes Teddy's 2nd wife and along with him, she adopts Murph and her brothers. Unlike Lydia who married him for his money, Ling marries Ted out of love.
Development and Writing
Edit
Conundrum Entertainment's Bradley Thomas became attached to The Three Stooges around 2000 with Columbia Pictures. In March 2001, Warner Bros. bought the feature rights from C3 Entertainment and Peter and Bobby Farrelly became involved. They along with co-writer Mike Cerrone completed the script in mid-to-late 2002 and began shopping it. In 2004, with no talent being attached to the project, their rights expired and it was acquired by First Look Studios and C3 Entertainment. In November 2008, MGM boss Mary Parent picked up The Farrelly's Warner Bros. scripts and the rights from C3 Entertainment, and was given a budget of $40 million with a release date of November 20, 2009. In March 2009, after struggling with casting delays, the release date was pushed to 2010, but the filmmakers still did not have a cast set. In November 2010, MGM filed bankruptcy and the following month the project was taken over by 20th Century Fox in hopes to have released the film on March 14, 2011.
The Farrellys said that they were not going to do a biopic or remake, but instead new Three Stooges episodes set in the present day. The film will be divided into three segments with a stand-alone story, each being 27 minutes long. The Farrelly's aim to receive a PG (Parental Guidance) rating from the MPAA, while still incorporating physical comedy. The Farrellys have also said it would have "non-stop slapping, more in the tone of Dumb and Dumber than we've done. Our goal is 85 minutes of laughs in a film that will be very respectful of who the Stooges were. It's by far the riskiest project we've ever done, without question, but it is also the one closest to our hearts."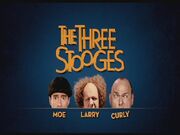 In March 2009, Benicio del Toro was in talks to play the lead role of Moe Howard, but then later dropped out. He was replaced by Chris Diamantopoulos in April 2011. Hank Azaria was considered for the part. Sean Penn was already set to play Larry Fine but dropped out to concentrate on his charitable efforts in Haiti. Sean Hayes was chosen to play Larry. Jim Carrey was set to play Curly Howard and gained 40 pounds for the role but ultimately dropped out because of not wanting to endanger his health gaining 60 to 70 pounds. The role went to Will Sasso. Johnny Knoxville, Andy Samberg and Shane Jacobson were all on the short list to play Moe, Larry and Curly, respectively.
In December 2010, Richard Jenkins was in talks to play Mother Superior in the film. In February 2011, Cher was considered but Jane Lynch secured the role.Larry David plays another nun in the film called Mother Mengele. Sofía Vergara was cast as Lydia. Stephen Collins was cast as Mr. Harter and Carly Craig as his wife, Mrs. Harter. The cast of Jersey Shore (Nicole Polizzi, Michael Sorrentino, Paul DelVechhio, Jennifer Farley, and Ronnie Ortiz-Magro) will have cameos in the film.
On a reported budget of $30 million, principal photography started on May 9, 2011 in downtown Atlanta, Georgia and wrapped on July 20, 2011. Scenes were shot at the Fairlie-Poplar Historic District around 5 Points Sports Building on the corner of Peachtree St., Edgewood Ave., and Decatur St. on the evening and night of May 13 and wrapped the next day. On May 26, filming took place at Stone Mountain Park in Atlanta. Other locations included Piedmont Park and Colony Square. In June production moved to Cartersville and shot scenes near Woodland High School. After the cast of the Jersey Shore arrived on July 18, 2011, they shot scenes at the Atlanta Civic Center. During the last two days of filming, scenes were shot at an Ansley Park home.
Appearance on WWE Raw
Edit
On Monday April 9, 2012 the three main cast members appeared on Wrestling show WWE Raw to promote the movie by acting in several scenes. The first was with Santino Marella, later taking to the ring with Sasso dressed as Hulk Hogan. After being booed by a somewhat perplexed crowd that gave off a negative reaction throughout the segment, Sasso received a chokeslam by Kane to close the scene.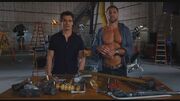 Reception
Edit
Reviews for the film have been mixed. As of April 12, 2012, the film garnered an approximate 50% "Rotten" on Rotten Tomatoes and a score of 55 out of 100 based on 19 critics indicating "mixed or average reviews" on Metacritic.
References
Edit