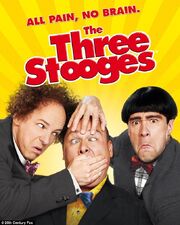 The Three Stooges 2 is an upcoming slapstick comedy film.
Chris Diamantopoulus Sean Hayes and Will Sasso will reprise their roles as Moe, Larry and Curly.
"The Three Stooges" are returning to the big screen in a new action-comedy feature film, with Sean Hayes (Larry), Chris Diamantopoulos (Moe) and Will Sasso (Curly) all set to reprise their roles from 2012's "The Three Stooges."      
Production Info
Edit
This sequel was announced on May 7, 2015 and has been set to begin production in 2018. Cameron Fay has been hired to write the script for the film.
Ad blocker interference detected!
Wikia is a free-to-use site that makes money from advertising. We have a modified experience for viewers using ad blockers

Wikia is not accessible if you've made further modifications. Remove the custom ad blocker rule(s) and the page will load as expected.