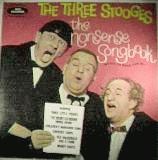 Three Stooges Nonsense Stoogebook is a re release of a 1959 MCA record. It contains many children's songs and stories. It is a well recieved Stooge collectible because it also features "The Alphabet Song", and an adaptation of the "Swingin The Alphabet" song from the 1938 Stooge short "Violent Is the Word for Curly".
Ad blocker interference detected!
Wikia is a free-to-use site that makes money from advertising. We have a modified experience for viewers using ad blockers

Wikia is not accessible if you've made further modifications. Remove the custom ad blocker rule(s) and the page will load as expected.