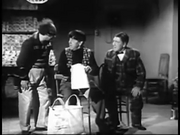 The Three Stooges had a few pilots made for Television that were not picked up
. These include Jerks of all Trades, The Three Stooges Scrapbook and Kook's Tour.
Information
Edit
In 1954 The Three Stooges made a TV appearance. This suppossed pilot shows Moe(Butch),Larry(Lefty) and Shemp(Spike) in a storeroom working on a plan. Larry is told to be quiet by Moe so he tries to communicate with Moe and Shemp by using body language. At the end of the pilot Moe, Larry and Shemp climb down a floor path and are arrested.
This Pilot is not as known as Jerks Of all Trades.
Ad blocker interference detected!
Wikia is a free-to-use site that makes money from advertising. We have a modified experience for viewers using ad blockers

Wikia is not accessible if you've made further modifications. Remove the custom ad blocker rule(s) and the page will load as expected.