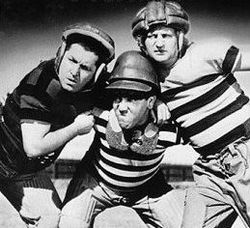 Three Little Pigskins is the fourth short subject by Columbia Pictures starring the Three Stooges.
Moe, Larry and Curly are three out-of-work tramps who are hired to promote a university football team. They're soon mistaken for the school's famous star athletes, "The Three Horsemen." As the star athletes, the Stooges get hired by a gangster to secretly play on his professional team, but of course the boys know nothing about football and wind up bungling the game.
 

Columbia Pictures short subjects
Curly, Larry, Moe
Shemp, Larry, Moe
Joe, Larry Moe
Ad blocker interference detected!
Wikia is a free-to-use site that makes money from advertising. We have a modified experience for viewers using ad blockers

Wikia is not accessible if you've made further modifications. Remove the custom ad blocker rule(s) and the page will load as expected.