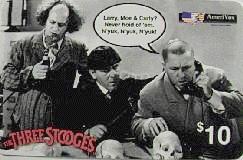 Collectible calling cards were a rage, back in the 90's, and so it was expected that the Three Stooges would get there. They did, in fact they had made two entries of them. Calling cards would allow you to pre purchase long distance services in the form of a debit card, at a suppose to be cheap rate. To have the cards be more desirable, various companies would put celebrities images on them, and luckily the stooges got there shot.
Ad blocker interference detected!
Wikia is a free-to-use site that makes money from advertising. We have a modified experience for viewers using ad blockers

Wikia is not accessible if you've made further modifications. Remove the custom ad blocker rule(s) and the page will load as expected.