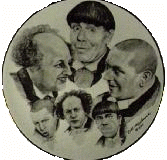 The Three Stooges had a variety of different types of plates, of which they appeared on.
The first three stooges plate featured artwork by Bill Markowski, and the plate was produced by W.M. Designs. The plate featured six black and white head figures of Moe, Larry and Curly.
Franklin Mint
Edit
Franklin Mint produced 2 different series of Stooges plates. The first series was a run of six plates, and was produced between 1993 and 1994. It included, "The Three Stooges", "Tree Surgeons", "Pop Art", "Dr. Howard, Dr. Fine, Dr. Howard", "Yanks For The Memories", and "The Cooking Lesson".
The other series from Franklin Mint was also a six plate run, and was produced during 1995-1996. It featured, "Rub A Dub Dub", "A Pressing Problem", "Elementary, My Dear Moe", "Funny Bones", "The K.O. Corral", and "The Pros As Cons".
Ad blocker interference detected!
Wikia is a free-to-use site that makes money from advertising. We have a modified experience for viewers using ad blockers

Wikia is not accessible if you've made further modifications. Remove the custom ad blocker rule(s) and the page will load as expected.