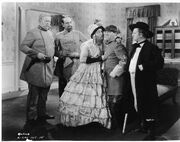 Uncivil Warriors is the eighth Columbia Pictures short subject starring the Three Stooges.
The Stooges are three union spies who infiltrate the confederate headquarters of General Butts. They are able to trick him into revealing the Southern Army's true strength, but are later revealed to be spies and have to get out fast.
 

Columbia Pictures short subjects
Curly, Larry, Moe
Shemp, Larry, Moe
Joe, Larry Moe
Ad blocker interference detected!
Wikia is a free-to-use site that makes money from advertising. We have a modified experience for viewers using ad blockers

Wikia is not accessible if you've made further modifications. Remove the custom ad blocker rule(s) and the page will load as expected.