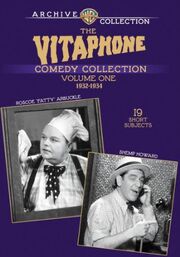 Vitaphone Comedy Collection was a DVD featuring shorts from the 1930s. There were two volumes released by Warner Brothers under their Archive Collection. Volume 1 was released on October 30, 2012.
Information
Edit
This volume features Vitaphone shorts from 1932 until 1934. 6 of the 19 shorts on this DVD feature silent film actor Roscoe "Fatty" Arbuckle and the rest featured comedian Shemp Howard who would later go on with The Three Stooges. Shemp appears in 2 shorts with Roscoe Arbuckle. Later on in 2014 all the shorts from 1933 to 1937 were released on Vitaphone Comedy Collection Volume 2: Shemp Howard.
Ad blocker interference detected!
Wikia is a free-to-use site that makes money from advertising. We have a modified experience for viewers using ad blockers

Wikia is not accessible if you've made further modifications. Remove the custom ad blocker rule(s) and the page will load as expected.